First Hand have recently returned from our latest service trip to Cambodia. Between 7-10 September 2017, 18 volunteers (adults and children) from Singapore travelled to Phnom Penh and Neak Loeung to deliver aid, meet our partners and help with projects at the centres.
Top of our list of priorities was to deliver the 4 'tilt-in-space' wheelchairs that had been specially ordered from Singapore to meet the specific requirements of 4 children with cerebral palsy, new to the Disability Centre at Damnok Toek Phnom Penh.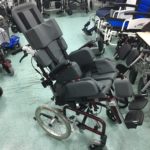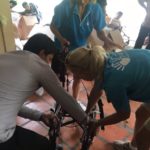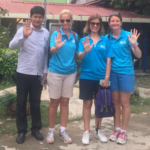 While there, we further delivered a correctly sized walker for a teenage girl who also had mobility issues from cerebral palsy – she was overjoyed with her new device! Leading the visit to this centre was Singapore-based Rehab Consultant, Dr. Jenni Cowlishaw, who conducted medical assessments ahead of a future medical mission trip. First Hand committee members Annette and Carina helped assemble the wheelchairs with the local care staff and took measurements to check which extra bolstering should be customised from Singapore for the chairs. The visit generated great interest and excitement amongst the residents and it was heart warming to see that the donations were received so well.
In addition to the wheelchairs we were able to bring with us more than 120kg of donations-in-kind that had been generously donated by our supporters in Singapore. These were handed over in Phnom Penh to our two partners Damnok Toek and Mother's Heart Cambodia. These aid items consisted largely of sports equipment, school shoes, learning aids, healthcare supplies and baby clothes. We would especially like to thank the 3 teachers from Dulwich College Singapore who brought over the scores of healthcare and hygiene packs that had been collected by their students. Emily, the Country Director of Mother's Heart also spent time with us sharing their latest news and needs in their crisis pregnancy programmes.
The most hands-on aspect of the trip were the 2 days spent at Damnok Toek Neak Loeung where the big team of volunteers painted the interiors of two of the centre's buildings. Thanks so much to the cooks at the centre who made such a yummy local lunch for us on both days!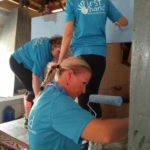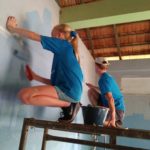 We would like to send a huge thank you to all our volunteers, donors and sponsors who rallied together to make this one of our most impactful trips to date!
For more photos of the trip please check out our regularly updated Facebook page: https://www.facebook.com/FirstHandVolunteers