Thank you to all our guests, sponsors and especially to Blu Kouzina Greek restaurant at Dempsey Hill for an amazing night on June 13th 2017.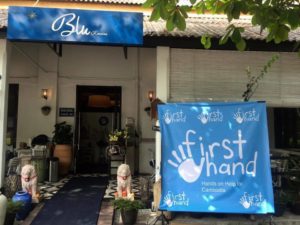 The Summer Wine Evening has raised $10,378 for First Hand. All the proceeds have been shared with First Hand's two partners – Damnok Toek and Mother's Heart Cambodia.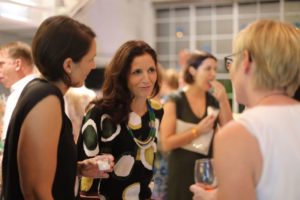 On the night, guests indulged in an array of Greek and Mediterranean dishes all prepared with organic extra virgin olive oil from Blu Kouzina's family–owned Olive Grove Estate in Messinia, Greece. It was a typical balmy evening in Singapore and everyone could enjoy dining on the patio under the stars overlooking the peaceful greenery of Dempsey Hill.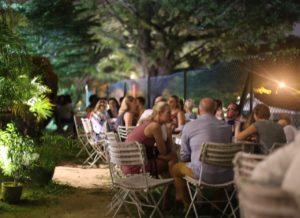 Vineyard owner and winemaker Dionysia Brintziki of Ktima Brintziki organic wines was in town and introduced four of their wines that were being tasted on the night. Martin McDarren also shared about the ancient Greek traditions of winemaking. After much food and wine, DJ Raj continued to entertain the crowd with music for grooving on the dance floor!
The silent auction showcased amazing art, lifestyle, fashion and homewares products from our very generous sponsors: Astrid Dahl, Swiss Club Singapore, Expat Kitchen, Sandra Macheroux photography, White Ginger, Rouge, Jubilo Joias, Ellie Lasth, Edition Limitee, Screening Room, Affordable Style Files, Bode, Cote and Badt, Dansk and the Danish Seaman's Church.
Thank you everyone for a beautiful and memorable evening!
More photos of the event are available at our Facebook page: https://www.facebook.com/FirstHandVolunteers/