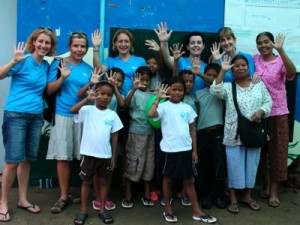 October 10th 2010
Day 1 – Thursday 7th October – First Experiences
With our flight arriving at around 8.30am in Phnom Penh, we were able to make the most of our time in Phnom Penh with a full day ahead of us. Mind you, having got up at 3am, it seemed more like midday by the time we arrived!
Our trip coincided with Pchum Ban Festival in Cambodia, so we weren't sure what to expect. Equivalent in importance to Christmas for us, Pchum Ban is the time that Cambodians have to honour and remember their parents and grandparents who have passed away. Many people return to their hometowns to visit family, which means leaving the town for the country. Driving through the streets, Phnom Penh did seem quieter than I expected.
Our first port of call was the Riverkids Alexandra Project, which helps families at the nearby Psaar Touch slum area. First Hand is funding a Food Program for them, which encourages local families to send their children to school at the centre in exchange for a rice box each week. The centre is trying to break the cycle of the children being sent out to work on the streets, or being sold.
Most of the children who usually attend lessons there were away visiting family, but seven of them were left behind. These children reside at the Project because of unstable conditions at home. After depositing 2 huge bags of toys, clothes, books and stationery – thanks to the donations of friends back in Singapore – we then took these kids out for the day.
Initially we were rather bemused when our guide and translator, Soklee, informed us that the kids most wanted to visit a shopping centre for lunch! Coming from Singapore, it wasn't exactly the first on our list of things to do – but then, we weren't there to please ourselves of course. However, we were soon rapt by the looks of excitement on the children's faces as we approached the shopping centre, and even more amazed as they grabbed our hands nervously when approaching the escalators. Wow, this was a new experience for most of them! Most braved their nervousness and jumped onto the escalators with glee, but it proved too much for a couple of them who had to take the stairs. Pizza for lunch (yes, common for us, but obviously not for them) was a thrill. A complete pleasure for us too – I did not hear one whinge while we were waiting for our food, nor one complaint while they were eating. I wonder if it would have been the same if we had been entertaining some of our own kids there….
The next desired place was Phnom Penh Water Park, so off we went in our line of tuk tuks, each trying to beat the other, cheerful songs ringing out from the kids in each. Not having any swimwear nor towels did not make one bit of difference. The kids all charged off into the water to splash around and play for a good few hours, under the calm watchful eyes of their housemothers, plus 5 rather more cautious First Hand ladies!
Day 2 – Friday 8th October
First stop today was to the supermarket to stock up on milk powder, rice, snacks, and floor cleaner to take to the Sisters of Charity Orphanage, along with the bags of toys, etc collected in Singapore. It certainly is another place to tug on your heartstrings. The Sisters, few staff, plus the odd volunteer are trying their best to look after and make life comfortable for the children there, considering the scarce resources they have.
Many of the children there are disabled in some way, and without proper physiotherapy, a few have become rigid in movement, unable to move themselves even out of their cots. One baby lies sleeping with an extended belly due to a liver problem, another girl sits rocking in her cot, on the slow road to rehabilitation having been severely beaten up, abused and abandoned, with the Sisters left to pick up the pieces. Professional help is needed in many of these cases, but finances are of course limited. We spend a couple of hours there, pouring as much love and attention as we could into these children, whilst probably upsetting their whole sleep routine, etc!
One of the older children there really pulls at our heart; a little girl who has only four 'half limbs' (her arms end as stumps before her elbows, her legs before her knees) who is as bright as a button and desperate for more stimulation than this situation can offer. We are hoping to help facilitate that Goutte D'Eau Children's Centre will be able to take her on.
The Goutte D'Eau children's home was our next visit where we dropped off some more huge bags of toys, books, clothes etc from Singapore. It's a lovely residential centre, with 4 small houses and a courtyard. Here we were treated as guests and were allowed to join in with their Pchum Ban celebrations. Wow – what a great welcome! The kids were all so pleased to see us and came to greet us with open arms and huge smiles. Nearly every child there has some sort of disability, some of which are quite severe. Roughly half of them are in wheelchairs. We stayed with them for a good few hours during which time we played games, watched them sing karaoke, did crafts, face painted and had such fun. It was incredibly humbling to be welcomed with such generosity of spirit into this bunch of amazing people. You could tell a lot of love was present in that place – the carers were so attentive towards the children, and the children so supportive of each other. Their shining eyes and easy laughter will stay in my mind forever.
Day 3 – Saturday 9th October ,The Riverkids Advocacy Walk
The Riverkids tour provides an amazing opportunity to try and gain at least some understanding of the challenges faced by some of the poor of Phnom Penh. You are taken by a guide to the slum areas to meet and interview families there, and also to some of the places where the sex industry thrives, and where sex workers just try and survive.
The tour started early, at 6.30am, when Soklee came to collect us from the hotel. Soklee used to work full-time with Riverkids but now freelances for them in between doing her studies and researching for her book about the sex trade in Cambodia. Though she has seen many cases of abuse of children and women in her work, she says that she's still shocked regularly by what she encounters on these tours.
The early start was in order to join some of the local children as they scoured the streets trying to fill their huge sacks with recyclable plastic bottles, tins and glass. For us it was a rather strange experience, watching these young boys of around 9 years old wandering the dirty streets in tough little bare feet carrying our their work. For them – not strange, just harsh reality. The families depend on money like this …. but it's hard work – a full sack would pay a mere 2,000 Riel (about USD 50c)
After a poor morning's pickings, the boys come back to Riverkids centre for breakfast with us. Rice and chicken is wolfed down by hungry mouths. We notice that one boy only eats half of his portion, gently closing the box on the other half. When asked why, he says it's for his mother. Wow. Fortunately we have plenty more for him to take back to his family – he opens his box again and finishes it off happily.
While being taken on a tour of the children's bedrooms, we meet a woman and her daughter who've come to the centre for help. The woman is in huge pain, and Soklee informs us that she is a sex worker, whose daughter had attended the Riverkids Get Ready Programme for a while. She looks in her late forties, but we learn she is 38. Her daughter is 13. The mother was thrown off a client's moped after he had 'done his business' with her, and refused to pay. Where else could this woman go? It becomes clear that the centre is a ray of hope for the surrounding community, providing not just education but social, medical, financial and emotional support for the community. We decide to take her for lunch later to see what we can do to help.
The next part of the tour involved going to Psaar Touch settlement, so we could see where some of the kids live. Now I could see why they are called Riverkids. Right on the banks of the Mekong, with their stilts reaching down into its water, stand dozens of roughly-built wooden shacks, a room to each family. Shabbily constructed wooden walkways run between the 'houses', while a carpet of rubbish lurches menacingly underneath everything. And you can smell it. Women are crouched down washing clothes and dishes on the walkway, while grubby kids run around happily in between.
I have seen places like this before on my travels, but this time what really brought it home to me was that we now knew people who lived here. We were taken to the house (room) of two of the boys from the centre. They do not stay there anymore as there's no room. Their younger brother runs to meet us; their mother is sitting inside on their one hard wooden bed with their teenage sister who is sleeping off last night's sex work. She looks very young, and exhausted.
We next visit another project at the Railway community. The dwellings here, though similar in size, shabbiness and materials, seem more settled and secure than by the river. However, we learn that this is government land where the tenants pay rent; the government wants to reclaim the land soon so the whole settlement is at risk from simply being burned down at any time. Again, the children greet us enthusiastically, possibly recognizing Soklee. No hands trying to beg anything from us, just offering laughter and smiles to us.
From the Railway kids to a coffee shop was another short tuc tuc ride.
We arrived at the coffee shop, sat down and immediately noticed the large quantity of males in the establishment. Our group were the only females apart from the young women who served us our beverages.
Soklee pointed to an area upstairs where apparently the coffee shop takes on a different persona in serving sex as well as coffee. It would appear that sex workers are everywhere in this city. Karaoke bars, massage parlors and yes even in coffee shops. In fact concealed behind the outer layer of coffee shops bars massage parlors and karaoke houses, there is a huge ongoing sex industry.
We went further along the main strip of shops and came to a massage parlor. Here Soklee was able to set up an interview with a young woman who had been working here for several years. She explained to Soklee that before working here, she had come from the Hill area between Vietnam and cambodia,The girl said that she was
working here because she earned a good living and that her employers (husband and wife) treated her well. The Wife was the one in charge.
Her parents were unaware that she is a sex worker. According to the girl this is strictly a massage parlor and any sexual encounters takes place outside the establishment. The girl also said that she does use condoms. Aids/HIV are at devastatingly high levels in Cambodia and it would appear that in fact condoms are rarely used.
It is important to remember that none of these women are doing this by choice.
During the day we met a desperate family in trouble and were able to help them turn their life around. It was an experience that reinforced how important it is to carry on raising money to help improve life over there.  More about this story
In the evening we were taken by Soklee to see some of the places where men (mainly locals) were able to pick up young teenage girls. As we walked across the room to our table we observed young girls and men dancing quite innocently on the dance floor. It looked like a regular place for teenagers to meet and without inside information from Soklee I would not have had any suspicions that prostitution was taking place. However, we found that the girls on stage dancing were waiting to be chosen by potential clients. There was a 'star' sex worker there too who could obviously demand the most money for the evening! We were even told that a client could choose any waitress for a much cheaper price! Even the innocent looking girls on the dance floor were apparently all sex workers.
Following this we set off into our tuk tuks to a pick up bar that was mainly aimed at western men.  As we passed along a renowned sex street a man is seen coming out of a room doing up the zip of his trousers!  In the bar beautiful girls who claimed to be early 20's were playing pool and chatting with men who were old enough to be their fathers if not grand fathers!!! I found it rather sickening as I watched what must have been a 70 year old man chatting away to a young girl as she stared emotionless into space. We were lucky enough to chat to one of the prostitutes there. She actually seemed to enjoy her job and did not come across as a 'victim' to the trade as so many young girls seem to be in Cambodia. It was revealed that western men, although much older, were less aggressive and paid considerably more money to the young girls.  Often if they became a regular to a client they were given a substantial amount of money so that they could go back home for a while and take a 'rest' from their daily work. After a very in depth discussion, Soklee paid the girl for her time and we finally were taken back to our hotel at around 1am in the morning.
On reflection the day can only be described as a life changing and emotional journey highlighting the harsh conditions of the poverty cycle, that for many families it is almost impossible to break away from.
Jill Connors, Martine Daly and Clare Wood